Development is a collective effort and a continuous process. SBOSD Ghana believes in collaborative effort with development players locally and abroad. The following institutions are in the process of partnering with SBOSD Ghana to pursue its objectives:
 ESAB AND SBOSD PARTNERSHIP

SBOSD Ghana is currently negotiating with ESAB to enter into partnership to pursue the rural development agenda of the organization. Agricultural development is the main focus  for this collaboration. Among the identified strategies for agricultural development are; post-harvest loss mitigation interventions,  small scale processing industries-especially processing perishable raw materials like plantain, tomatoes, watermelon, orange and cassava.
ESAB is also to strengthen the knowledge of SBOSD staff through training on short courses on agriculture.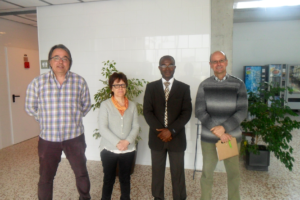 A picture of SBOSD Ghana C.E.O and ESAB Administrators
SMARTEARTH AND SBOSD PARTNERSHIP
SBOSD represents SmartEarth in Ghana operating as a local representative.
SmartEarth is an international consultancy, established in 2014, with experienced personnel bringing a wealth of knowledge, professionalism and expertise on international climate change and sustainable development.
We work with Governments in developing countries – and with civil society – to secure finance, technology and capacity building for climate change mitigation and adaptation, and to identify opportunities in transition to low-carbon climate resilient economies.
SmartEarth works with partners in developing countries to develop appropriate projects and programmes and to secure funding from multilateral donors and private finance.
SmartEarth has established a strategic partnership with the Institute of Public Administration (IPA) to deliver capacity building and training in developing countries.  The IPA is the Irish national school of Government, established over 50 years ago and is recognised internationally as a centre of best practice in teaching and research for public administration and public management.  This joint venture allows us to offer governments a comprehensive package in applying for funding for climate change adaptation and mitigation measures. The SmartEarth-IPA consortium bring their specialist expertise in assisting developing countries meet their obligations under the UNFCCC in the areas of capacity building, strategic country programme design, inclusive stakeholder engagement, and accreditation facilitation.
International Funding for Climate Change
Under the United Nations Framework Convention on Climate Change, Governments agreed a new global climate agreement in Paris in December 2015, to come into effect by 2020.  Access to finance, technology, and capacity building for developing countries is a key part of that agreement. Governments have committed to mobilising up to $100 billion per annum for developing countries from a variety of sources by 2020 to fight climate change and its effects.
Funding and other support for developing countries come from a wide variety of sources – international institutions and mechanisms, national governments and the private sector. Given the complex multi-level global climate finance architecture there have been repeated calls not only to simplify access, in particular for Less Developed Countries, but for greater institutional and capacity development that would enable donors to support country-owned climate change programmes and build on existing national systems to meet international priorities. Key multi-lateral funding mechanisms include the Adaptation Fund, the Green Climate Fund and the United Nations Capital Development Fund.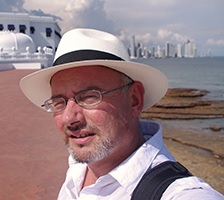 Noel Casserly is Founder, Lead Partner and Chief Executive Officer with SmartEarth.ie. Noel is Director for Capacity Building and Climate Finance. He is a graduate of Trinity College Dublin and worked until December 2013 with the Irish Government in the areas of environment, climate change and sustainable development where he:
Led the Irish delegation at UN international negotiations on climate change (UNFCCC).
Was Director of Ireland's National Council for Sustainable Development (Comhar SDC).
Served on the monitoring committee for EU project funding for the Northern Ireland PEACE programme.
Was a member of the Irish Delegation at the Commission on Sustainable Development at the UN in New York.
Was former Chair of EU expert groups on climate change and sustainable development.
Formerly consultant to Irish Aid at UNFCCC negotiations
Gathered an extensive network of global contacts.
Gained a wealth of experience and expertise in the field of Climate Change
To read more about SmartEarth kindly go to www.smartearth.ie